BP hit hard in the aftermath of the disaster in the Gulf of Mexico
It's almost two months since the widely reported disastrous oil spill in the Gulf of Mexico, where the Deepwater Horizon BP oil rig exploded and was sunk on April 20, killing 11 workers and leaving a hole in the ocean floor spewing around 5000 barrels of crude oil a day into the sea.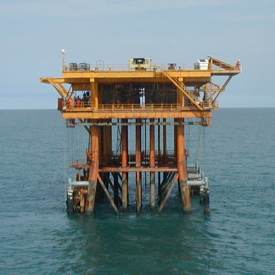 The threat to the marine life in the area is substantial and protecting the environment is the job of British Petroleum, who have confessed to being "Ultimately Responsible" for fixing the mess.
The clean up operations along the coast of the Gulf of Mexico and also the effort to repair the leak was costing BP a reported £4m per day.
BP said on the 18th of May that they had managed to repair some of the leak, and said they were capturing 1,000 but still losing 4,000 barrels of oil per day into the ocean.
At the beginning of the month the BP effort to plug the spill failed. Causing the BP share price to drop 35% from before the rig exploded.
On the 5th of June BP said they had successfully attached a cap to the leak, but it was not long after this good news that the US Government had issued a statement that BP were fully responsible for not only the clean up operation, but also the economic stability of the surrounding area.
It is not the loss of oil that will have the lasting effect on BP, as shortly after they managed to stop the leak, it was released they had agreed with the US Government to put £20bn into a fund to pay for damages, which on top of a near 40% drop in share price means the future looks bleak for the company branded 'reckless' by President Barack Obama.