Inflation hits a three year high of 4.5% for August- utility bills a main factor of the increase of cost of living.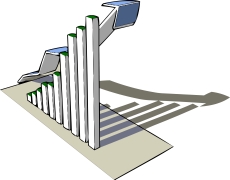 The biggest annual rise in water and energy bills in more than two years has been a main factor in the high inflation rate.
Energy prices, along with increases in the cost of food and clothing meant the consumer prices index (CPI) inflation total climbed to 4.5% last month, up from 4.4% in July.
Victoria Cadman of Investec suggests that the Scottish Power price increases could be solely responsible for 0.1% of the CPI total, and expects British Gas's price increase to have an even larger impact on next month's figures.
And with E.ON Energy, Scottish and Southern Energy and Npower all raising their prices over the next few weeks, the influence of the big six energy suppliers on inflation will be even higher.
It is expected that after September when the bulk of the winter energy price rises hit, the UK will see an inflation total of over 5%.