The USA's $38.6 billion "green-tech" program has so far only created a fraction of the green jobs that were promised.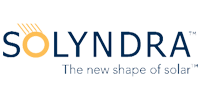 Various media outlets around the world are reporting on what's becoming known as the Solyndra Scandal. Solyndra was a company that made solar panels, and was funded by Obama's green-tech subsidy program.
"The future is here" said Mr. Obama, when he visited the plant in May 2010, citing the plant's ongoing production as proof that "the promise of clean energy isn't just an article of faith".
The company, which received over half a billion dollars of taxpayer money in the form of a loan, declared itself bankrupt recently, leaving around 1,100 employees out of work.
This story has highlighted the fact that the green-tech program has only actually created around 3,500 permanent jobs in the last two years, having already distributed nearly half of the money it has made available.
However, this graphic from the US Department of Energy shows that the permanent jobs are only a fraction of the "green jobs" that would be "created or saved" by the program. It shows 33,000 jobs at Ford Motor Company as being saved by a $5.9 billion loan allowing them to create more energy efficient vehicles, therefore converting them regular jobs to "green manufacturing jobs".
The Global Warming Policy Foundation has stated here that the permanent jobs created have cost around $5 million each.
Sources: The Foundry | Washington Post | New York Times