With EDF Energy still in talks with the government about building new nuclear plants, are we at real risk of running out of electricity?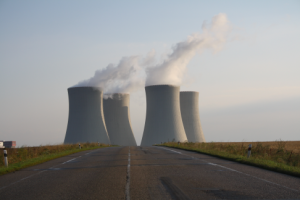 Britain could have a new 'fleet' of nuclear power plants by 2030, if all goes well, but the first of the 18 projects is under threat.
EDF is negotiating hard with the government about the subsidy it receives for the energy generated at the new plant proposed at Hinkley Point, and has even reduced the number of staff working on the project.
Nuclear is seen as the one solution that appeases all in the energy and climate change debate; lots of relatively cheap, consistent power, without the pollution and carbon emissions.
But recently a group of senior nuclear scientists warned that it is "becoming increasingly concerned at the apparent slow progress of negotiations".
The group, lead by Prof Sir David King, former chief scientific advisor to the Government said the whole project "could be undermined if a deal on the pioneer project is not resolved satisfactorily".
What about other companies and forms of generation?
With few other plans to secure our energy for the long-term (at least until shale gas comes online) this could mean we have to import electricity from France and gas from Russia in the meantime, while the "strike price" is agreed.
We reported last year that Hitachi are planning to build at least 4 new nuclear power plants in the UK.
However, that seems increasingly unlikely to happen as the new Japanese government has reinstated their nuclear power program, meaning the company no longer have to look overseas for contracts.
Sources: Britain's nuclear future at risk, experts warn – Telegraph | EDF Energy to cut jobs to control cost of building nuclear power station – Guardian | Energy security 'at risk' if ministers fail to seal EDF nuclear deal – Telegraph