10 new nuclear power plants are to be built, aiming for 25% nuclear energy by 2025.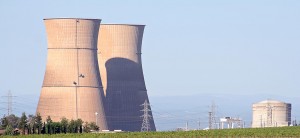 Energy and Climate Change Secretary Ed Miliband announced this week that new nuclear plants, combined with renewable energy and cleaner coal plants, can secure the country's energy supply and cut its carbon and greenhouse gas emissions.
With nuclear power currently providing around 15% of the country's power, and with most of the existing plants being closed within the next decade or so, a need for a brand new generation of plants has been called for by the government for some time.
Miliband said that the first of the plants should be operational by 2018. They will all be built on sites of existing nuclear plants or those set to be decomissioned and should mean that by 2025 they will account for 25% of the country's energy.
The 10 proposed sites are the three sites recently sold via an online auction to EDF and RWE E.ON, and other sites in Somerset, Cumbria, Lancashire, Hartlepool and Suffolk.
Due to planning permission for nuclear sites being notoriously difficult to obtain, decisions for sites bigger than 50 megawatts, or 100 watts for offshore wind, will take only a year under the new proposal.
Another announcement was of a new generation of cleaner coal-powered stations, which will require carbon capture and storage (CCS) facilities. The government will introduce a new subsidy to pay for this development, named the CCS incentive, which is expected to cost the average household from £11 – £15 per year from 2020.