British Gas owner Centrica has released a statement warning of higher energy prices for its customers.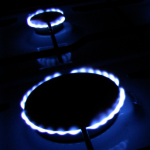 Centrica specifies the forward wholesale gas prices for the coming winter, which are 25% higher than the prices from last winter, as the main reason for the probable price rises.
Centrica said in the statement that the earthquake and nuclear crisis in Japan, coupled with the turmoil in North Africa and the Middle East have lead to these high wholesale forecasts.
The company also said that residential demand is also challenging profits. "Market conditions for our residential energy supply business are significantly more challenging than in 2010." The statement said.
It reveals that due to the warm weather in the first quarter of 2011, residential gas consumption was down 19% on the same period last year, while electricity consumption was 4% lower.
Centrica also said it is likely to cut investment in the UK, due to the raised taxes on North Sea oil and gas production.
"We continue to expect growth in our 2011 group earnings but at a more modest rate than anticipated at the time of our last results announcement as upstream profits have become more highly taxed," the company said.
This follows a claim by Centrica last week that they are considering shutting down the UK's largest gas field in the North Sea.