Shell gas has announced a ruptured pipeline has spilt a substantial amount of oil into the North Sea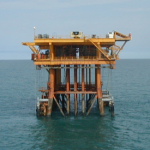 The spill, coming from the pipeline leading to the Gannet Alpha oil platform 113 miles (180 km) off Aberdeen, is said to have been releasing oil into the North Sea since last week.
The Department of Energy and Climate Change (DECC) said: "Current estimates are that the spill could be several hundred tonnes."
It is the largest oil spill in the North Sea for more than a decade.
While it is described as a "substantial" leak, the oil is not expected to reach the shoreline, and should disperse naturally.
A DECC spokesman said in a statement: "DECC's environmental inspectors will continue to monitor the situation and have been working closely with the company and counterparts from the Health and Safety Executive, Maritime and Coastguard Agency and Marine Scotland since the spill was reported last week."
"Shell has informed us that the oil leak at its pipeline at the Gannet Alpha platform east of Aberdeen is under control and has now been greatly reduced."
"They are working to completely halt any further leakage," he added.