Barclays Bank has launched a £100m renewable energy fund for farmers due to a surge in interest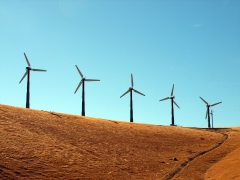 Barclays say research shows more than one third of UK farmers want to install renewable energy projects on their farmland, most of them within a year.
Farmers hope to generate average returns of £25,000 pounds per year, Barclays said.
The 100-million pound fund is to help farmers finance projects such as solar panels, wind farms, hydro plants and organic waste power.
Barclays says there is a fast growing number of agricultural businesses seeking to benefit from government support tariffs.
The survey of 300 agricultural customers showed four out of five farmers recognize renewable energy can reduce costs and 60 percent see it as a potential source of additional income.
"We want to signal very clearly to the market that we consider this to be a big future industry, a big opportunity for agricultural businesses and also a big opportunity for the renewables," said Barclays Business' Product and Marketing Director, Travers Clarke-Walker.
The fund's loan budget is unlimited and the first £100m could support more than 100 projects as the average cost varies between £250,000-£700,000, Clarke-Walker said.