Marubeni Corp has become the first Asian company to invest in UK renewable energy.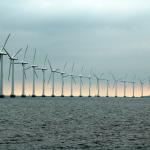 The Japanese conglomerate has invested £200m for a 49.9% share in a UK wind farm owned by Danish renewable firm Dong Energy.
Marubeni's investment is in the Gunfleet Sands wind farm, located off the Essex coast. The wind farm began full operation last year and produces enough power for 125,000 British homes.
Gunfleet Sands consists of two parts, Gunfleet Sands 1 with 30 turbines and Gunfleet Sands 2 with 18 turbines making 48 in total generating 3.6MW each.
Danish firm Dong Energy owns four wind farms in Britain, with another four in development, including the London Array, which will be the largest of its kind when it is completed.
"The offshore wind power sector represents a tremendous growth opportunity not only in Europe but in Japan and the Americas," Masumi Kakinoki, an executive officer at Marubeni, said in a statement
Encouraging investment in the renewable energy sector from outside the UK, and notably Asia, is seen as a crucial part of achieving the government's plan of increasing wind power generation to 18GW of capacity in British waters by 2020.