Wholesale natural gas prices are 40 per cent higher than they were this time last year.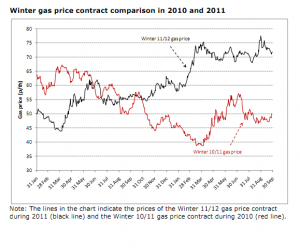 Despite criticism that green taxes and subsidies are pushing up energy prices, Ofgem remain certain that it is rising wholesale electricity prices that are to blame.
An Ofgem report stated that wholesale gas is now 40% costlier than it was at this time last year.
When the Fukushima disaster happened in Japan earlier this year, they needed to generate more electricity from gas right away, so they started importing it, which in turn drove the price up worldwide.
That pushed up the price of the gas that UK energy suppliers had to pay for their gas as well.
But this year is the first year that we have every imported more gas then we have extracted ourselves, which is much more costly.
Many people are calling for the government to put shale gas on the agenda, as cheap, 'home-grown' gas will lower prices of gas, and therefore electricity costs will also fall.
Sources:
BBC – Energy bills driven up by battle for gas
Ofgem – Electricity and Gas Supply Market Report
The Carbon Brief – Gas prices are to blame for rising energy bills says Ofgem, not green policies