Germany's once booming solar power industry is declining at an alarming rate, with 20,000 jobs being lost in 2011 alone.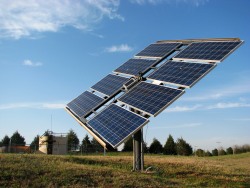 Germany once had the biggest solar industry in the world, providing around 150,000 jobs by 2010, but that bubble seems to be starting to burst, as demand for solar technology drops, government subsidies are cut and competition from cheaper Asian competitors has increased.
According to Reuters, new incentives brought in by the coalition of Social Democrats and Greens a decade ago turned Germany into the biggest producer of solar panels in the world within a few years, but many of the start-ups it spawned that quickly became global leaders in the solar industry have now gone belly up.
It's Not Just German Solar Firms Going Bust
Germany is not the only country watching its solar industry decline though. As we reported earlier in the year, Solyndra went bust taking 1,100 jobs with it in the US. Solyndra was being called the 'Solyndra Scandal' by some, as it managed to waste $535 million of US taxpayer subsidies. Clearly, when Barack Obama said "The future is here" when visiting the plant in 2010, he was wrong. But what did go wrong?
Other similar companies in the US have also gone under, many also receiving government subsidies or loan guarantees. 2011 saw other US solar firms SpectraWatt Inc., Beacon Power Corp. and Evergreen Solar go bust, all citing competition from China as the main reason for their demise.
In Germany however, a combination of competition from China, cuts in subsidies and a lack of demand are all being raised as reasons for the sharp decline in the industry. With the cuts in feed-in-tariffs being implemented in the UK, the government is realising it can no longer support an industry with taxpayer money, so we may experience a similar situation in the coming months.
Let's hope it's not all bad news for the solar industry as a whole though. The world's largest solar power plant has just opened in Andalusia in Spain, and the Independent is confident that the sun hasn't set on renewable energy yet. On the other side of the world though, China is said to be 'restructuring' its solar industry due to declining demand, as reported here. We'll be following these ones closely.