Between 4 and 6 new nuclear power power stations will be built, creating 12,000 jobs during construction.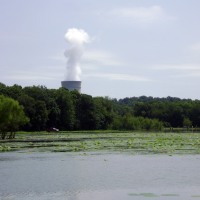 The new plants will be built by Hitachi, bringing fresh competition to the UK nuclear programme.
Hitachi Ltd acquired Horizon Nuclear Power, a joint venture set up by RWE Npower and E.ON in 2009, who later agreed to pull out of the nuclear market altogether.
Up to 60% of the parts are to be British, with major companies Rolls-Royce and Babcock International having already agreed preliminary contracts to join the deal.
Prime Minister David Cameron said: "I am determined that Britain competes and thrives in the global race for investment. This is a decades-long, multi-billion pound vote of confidence in the UK, that will contribute vital new infrastructure to power our economy."
"It will support up to 12,000 jobs during construction and thousands more permanent highly skilled roles once the new power plants are operational, as well as stimulating exciting new industrial investments in the UK's nuclear supply chain. I warmly welcome Hitachi as a major new player in the UK energy sector."
Energy and Climate Change Secretary Ed Davey said: "Hitachi bring with them decades of expertise, and are responsible for building some of the most advanced nuclear reactors on time and on budget, so I welcome their commitment to helping build a low-carbon, secure-energy future for the UK."