Conservative MP Fallon has been appointed the role as part of a 'mini reshuffle' of the cabinet.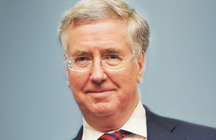 The old Energy Minister, John Hayes, will now act as a political and parliamentary adviser to the Prime Minister.
A mere 6 months after his appointment, John Hayes leaves his post as Minister for Energy, having kicked up a bit of a storm about wind power the day he took the job, saying that 'enough is enough'.
He was slapped down by Ed Davey though, who quickly reminded us all that, although the Conservatives run the treasury, the Liberal Democrats run the Department for Energy & Climate Change, and therefore would dictate policy.
Mr Fallon will perform the role in tandem with his duties as Minister for the Department of Business, Innovation & Skills.
In an official statement, Downing Street said:
John Hayes MP to become a Minister without Portfolio (Minister of State), Rt Hon Michael Fallon MP to become a Minister of State at the Department of Energy and Climate Change in addition to his current role as a Minister of State at the Department for Business, Innovation and Skills.
The Shadow Energy Minister, Caroline Flint, has said that Mr Fallon can only act as a part-time minister, claiming that he can not perform his duties properly.
GOV.UK currently says: "The exact portfolio of the Energy Minister is still to be confirmed following the appointment of the Rt Hon Michael Fallon MP as Minister of State in addition to his current role."
Links: Michael Fallon at GOV.UK Department for Business Innovation & Skills | Department of Energy & Climate Change